Whether you are looking for Modern LED bath bars or Farmhouse.  Wall sconces, ceiling fixtures or Vanity Lights check out our Bathroom Lighting Collection.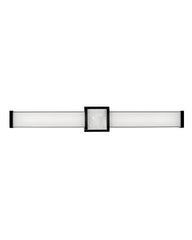 Hinkley Pietra 51583BK New Large LED Vanity  Turn your bathroom into a sanctuary with Pietra. Luxe materials and meticulous craftsmanship add to the spa-like zen of this integrated LED collection. A prominent cast center bracelet features a piece of solid stone with natural veining and subtle coloration that gleams against the Chrome or Black finish. Sophisticated details including cast end-caps...
Framburg Lighting FRA-1083-PS-EB Princessa 3-Light Sconce Framburg Lighting 3-Light Polished Silver Princessa Sconce Jewelry crystal adorns these sleek and sophisticated frames Each framburg lighting fixture is hand made in the USA Bulb Type: 3x 100 Watt Medium Rated for Indoor Use Only: Extension from Wall: 9" Height: 10" Width: 24" **PLEASE note this product does not include shipping, please call...